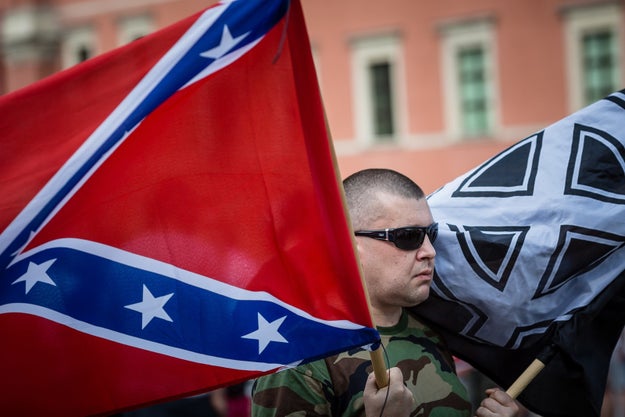 A Polish far-right activist holds a Confederate flag and a Celtic Cross flag in 2015.
Wojtek Radwanski / AFP / Getty Images
A multi-national neo-Nazi music festival called a "Night of Identity" is being planned in Poland to coincide with Hitler's birthday in April, the news outlet Gazeta Wyborcza reported this week, with participation of bands from countries including the United States and Germany.
The report comes as Poland is under fire from historians and Jewish organizations for a new law that criminalizes saying Poland has responsibility for the Holocaust. Lawmakers want Poland, which lost 6 million people during World War II, to be remembered as solely a victim of the Nazi troops that occupied the country. But some Poles were complicit in the deaths of some of the 3 million Jews who were among the dead.
Gazeta Wyborcza reported that the April concert is being organized by a group called Club 28, which has ties to the international neo-Nazi organization Blood and Honor. The event is to include international white power bands including the US's H8 Machine and Germany's Heiliger Krieg. In December, a flyer for a "Night of Identity" concert was posted on a Facebook page for H8 Machine, but only listed the location as "somewhere in Europe."
Poland has become an increasingly important hub for nationalist parties and neo-fascist organizations in recent years. In November, an official march celebrating Poland's Independence Day included contingents from foreign organizations like Italian neo-fascist group Forza Nuova.
BuzzFeed News also attended a conference the day before November's march organized by Polish white nationalist publication Szturm that included the creator of the Russian white nationalist clothing brand White Rex, Denis Nikitin. American alt-right leader Richard Spencer was also due to speak at the conference, but pulled out at the last minute saying he feared the Polish government would bar him from entering the country.
At the same time that Poland is under fire for its new law about the holocaust, a news report about neo-Nazi activity inside the country has caused a national scandal.
Last month, Poland's independent TVN broadcaster released a documentary released last month with footage from a similar celebration of Hitler's birthday last year that included a swastika-shaped birthday cake, a flaming swastika, and participants chanting "Seig Heil." TVN also reported that an aide to an MP from Poland's most nationalist faction, the National Movement, was involved with Pride and Modernity.
(On its website, Pride and Modernity has denied that it was involved as an organization in the 2017 event.)
The TVN report brought widespread condemnation from across Poland's political spectrum, and Polish Prime Minister Mateusz Morawiecki called for the group to be banned.
"These two totalitarianisms, Nazism and communism were the greatest tragedies in the history of mankind," Morawiecki said during televised remarks on Jan. 23. "In Poland there can not be the slightest tolerance for Nazi, fascist or communist symbols. Their presentation is against the law and against all our values."
Five people were arrested after the TVN documentary aired for violating a Polish law against promoting fascism. That law is narrowly interpreted; groups that describe themselves as "authoritarian" and "racial separatists" organize a march of tens of thousands every year in Warsaw to celebrate Poland's Independence Day, and some participants in last year's march carried banners of the Celtic Cross, which was also used as a Nazi symbol.
Prosecutors do sometimes bring charges for using symbols directly associated with Nazi Germany. Some members of the group that organize the Independence Day march, the National Radical Camp, were convicted of using Hitler salutes in 2008. Authorities tried unsuccessfully to get the group banned in TKTK when Poland's government was lead by left-leaning lawmakers, but the lawmakers of the nationalist party that now governs Poland have generally backed the march since taking power in 2015.